Know Your Ocularist in Delhi, India, Best Custom Eye in Delhi
Chinmaya Vision, located in New Delhi, is widely known for providing high quality custom eyes for one-eyed patients. Our medical practices are largely driven by the advanced and state-of-the-art medical equipments so as to meet the highest standard of artificial workmanship, set by our expert medical professionals. Our custom-crafted artificial eyes bring lively appearance and utmost convenience to the patients, as we apply the highest standards in course of making artificial eyes. We have the best occularist in Delhi, having extensive experience in eye surgery and planting artificial eyes.
At Chinmaya Vision, our experts are not only apprehensive about the comfort, while rehabilitating one-eyed or disfigured eye patients, but also about the appearance that makes a difference in their social, personal and professional life. The artificial eye, also known as Ocular Prosthesis, is prosthesis which contains numerous important functions. Though the solution is not to restore the vision sight, yet it can benefit the patients in following ways:
• It brings life-like appearance to the patients' face.
• It protects soft tissues from getting damaged.
• Custom eye stops eyelids and lashes from turning in.
• Custom eyes make it easy for eyes to do proper circulation of tears, and it helps in proper cleaning and lubrication of eyes.
We are armed with high-end technology and medical tools so as to provide quality custom eyes in Delhi. Our specialization comprises of artificial eyes, prosthesis eyes, scleral shells, and ocular prosthesis.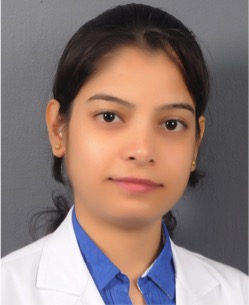 Dr. Gayatri Gaur working as an ocularist is well trained in her job. During her optometry she did her internship at Shroff Charity Eye Hospital, Daryaganj, Delhi. She was trained in the art of matching ocular prosthesis during her fellowship at Chinmaya Prosthetic Centre, Delhi in 2009-2010.
After that she joined L.V. Prasad Eye Institute, Hydrabad in 2014-2016, after a short term of training she was working as a head of the ocularistry department. She worked there for almost 2 years and during this period she trained many ocularist fellows.
Dr. Sham Sunder Gupta is an accomplished eye surgeon. He did his fellowship from L.V. Prasad Eye Institute, Hydrabad in 1993- 1995. He started his practice in Delhi in 1995 and setup the Chinmaya Vision -The Eye Hospital in 2002.
Seeing the void in the field for artificial eye, he started Chinmaya Prosthetic Centre along with Dr. Raj Anand. Besides managing cataract, glaucoma, LASIK, he also looks after the all-surgical needs of eye for ocular prosthesis.